Apple and Volvo Forge Global Alliance 
[from Swede Speed]


Volvo Car Group (Volvo Cars) and Apple Inc. (Apple) are joining forces to make Apple's widely-used and hugely admired operating system available to drivers, bringing together one of the world's most progressive car companies and the world's most famous technology company.
The alliance promises to transform the in-car experience. Called Apple CarPlay, the new service brings all the features and services familiar to iPad, iPhone or iPod users directly into the car via Volvo Cars' large centre console touch screen display.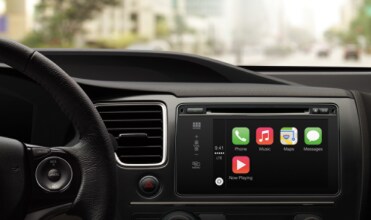 Volvo Cars enhances Apple's capabilities by linking them to a specially-developed interface that allows drivers to use voice and steering wheel controls to access Apple features and services, ensuring the entire interaction is always safe and easy to use. "Apple's clean and intuitive user interface is a perfect match with Volvo's Scandinavian Design  approach and our focus on fluid functionality," says Håkan Samuelsson, President and CEO of Volvo Cars.
The first car to offer Apple CarPlay will be the all new XC90 SUV which will be introduced later in 2014, one of the most anticipated cars of recent years, replacing the original XC90, which redefined the SUV and became the best selling model in Volvo Cars' history.
With Apple CarPlay, users will immediately recognise their basic iPhone applications, such as phone, messages, music and navigation. The initial offer also features third party audio apps including Spotify, the popular music streaming service.

"iPhone users will feel completely at home in a new Volvo. We have created a wholly-integrated user experience in our large portrait-oriented touch screen that takes the in-car mobile device experience to a new level. That, coupled with the obvious driver safety benefits of an advanced voice control system like Siri, made Apple a perfect match for Volvo," says Håkan Samuelsson.